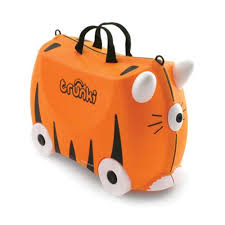 As an IP litigator I spent 15 years helping business enforce their IP so I know how difficult it is to predict the outcome of IP cases. From experience you cannot take anything for granted. However much you believe one party is in the right, the law may not see it that way.
And this was the case with the recent Trunki decision.  Now, I have not yet read the judgement and am guessing the Supreme Court got the law right, but this doesn't make the decision any easier to take.
Here you have a great British success story. An idea that went from the drawing board to market and was a great success. And unlike many UK businesses, Trunki understood that protecting its IP was important. Nonetheless, when it came to stopping a company who had admitted copying their products they ended up spending 3 years and a significant amount of money for nothing. In fact, its worse than that, now every competitor knows exactly what they need to do in order to rip them off without being sued.
Its a bitter pill to swallow.
The lessons are many. From ensuring you get good legal advice about IP at an early stage to thinking twice about embarking on costly litigation, but this is little consolation to Rob Law and his team at Trunki.
They need to dust themselves down and get on with making great products. Something they have proved they are more than capable of doing.